Fritzie Urquhart: 'The Constellation Tree'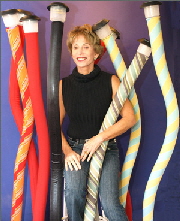 Painter, Sculptor
Artist's Statement: Painting and sculpting is for me the process of discovering the extraordinary within the ordinary, and creating art that celebrates those qualities. My painting and sculpture include the use of textural materials and innovative techniques that create revelations of color and form.
Information Professional
Fritzie Urquhart's sculpture installation sites include California State University, San Marcos, the Embarcadero in San Diego, Scripps Memorial Hospitals in La Jolla and Encinitas, and the Carlsbad Sculpture Garden, "Here I Come, Ready or Not", a solo show. The central theme, playfulness, is key to the spirit of her body of work.
The artist's wall sculptures are installed at Cal State San Marcos, the President's office, and the Sidney Kimmel Cancer Center in La Jolla. She has exhibited at the William D. Cannon Gallery in Carlsbad (juror's choice award), and the Oceanside Museum of Art.
Recent exhibits include the 'Movers and Shakers' show in 2009, and a new sculpture at Cal State San Marcos installed in July, 2010.
For more information about the Artist, visit www.fritzie.com
'The Constellation Tree'
Is For Sale on consignment, the asking price is $8,500
Garden Open Daily 7:00-5.00 Monday-Friday; 10:00- 5:00 on weekends
Admission is $5.00 for non-members; admission is Free with Membership
Days that the Gardens are CLOSED
Directions to the Gardens (760) 945-3954 email:info@altavistagardens.org
Alta Vista Botanical Gardens is a 501(c)3 Not For Profit Corporation
Contact: WebMaster Copyright© 2003-2015 Alta Vista Gardens All Rights Reserved
AltaVistaGardens.org is part of the Omni Pragma® family