Benjamin Lavender: 'Kite of Paradise'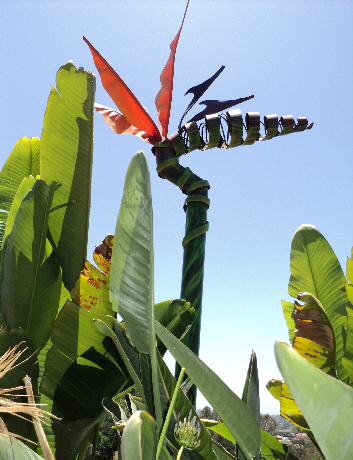 "Abstract Naturism is an appropriate way to describe my work, as well as industrially-organic. Both define the outcome of mimicking nature through intense hours of manipulating metal, concrete, paint. and found or reclaimed objects into organically formed art."
Bio
Benjamin Lavender was born and raised in Austin, Texas, an artistic and musical city. When he moved to Nashville, Tennessee, he earned his Associates of Fine Art from Watkins College of Art and Design, with first place in ceramics and second in sculpture during his exiting student show. Lavender then moved to San Diego and received his BA in sculpture from San Diego State University in 2003. Benjamin quickly established himself in local group and solo shows in the surrounding area, including San Diego Fine Arts Society's annual, "Sculpture in the Gardens," at the San Diego Botanic Gardens. Lavender recently exhibited his largest sculpture to date, "Kite of Paradise," in the annual "Kites Over Vista". Lavender has also participated in several other juried group shows including: the annual "Sculptures in the Street" in Mesa, AZ, "San Diego Art Prize: New Contemporaries," at Simay Space, San Diego, CA, and the Port Of San Diego Sculpture Show (now named Artwalk on the Bay) San Diego. Benjamin has shown at Planet Rooth, San Diego, CA multiple times over the past 4 years during "Ray at Night," San Diego's longest running art-walk located in North Park. Benjamin Lavender has claimed San Diego as home, but continues to spread his artwork throughout surrounding areas.
Ben can be reached by email at: ben@benjaminlavender.com or visit his web site at http://www.benjaminlavender.com/
This is an enlarged representation of one of the most unique flowers that thrive in this region, the bird of paradise. With its bold colors and sculptural form, the kite of paradise represents the celebration of my mothers life, whom I have lost recently. The kite of paradise is also a symbol of this amazing region of the land we live in that allows the most tropical and colorful plant-life to thrive.
Asking price is $6,000.00
Garden Open Daily 7:00-5.00 Monday-Friday; 10:00- 5:00 on weekends
Admission is $5.00 for non-members; admission is Free with Membership
Days that the Gardens are CLOSED
Directions to the Gardens (760) 945-3954 email:info@altavistagardens.org
Alta Vista Botanical Gardens is a 501(c)3 Not For Profit Corporation
Contact: WebMaster Copyright© 2003-2015 Alta Vista Gardens All Rights Reserved
AltaVistaGardens.org is part of the Omni Pragma® family