Morris Squire- 'Lamed'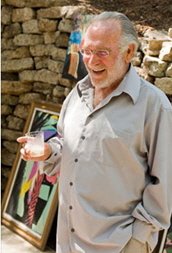 Morris Bear Squire is a working artist and philanthropist from Chicago Illinois who divides his time between Santa Barbara and Cambodia. His artwork is borne from an extensive history of world travel, as well as decades of practice in human psychology. His recent work that features a series of Vietnamese lacquer pieces from his studio in Southeast Asia is the culmination of Squire's social integrity, which he continues to nurture through escapades to the Orient and beyond.
Mr. Squire has been a major donor to Jewish institutions and causes in the United States for the past 30 years. He is the founder of acclaimed international organization, Moishe Houses, and continues his philanthropic work in several different capacities through his foundation, the Morris B. Squire Foundation.
Morris Squire's work is also featured locally at the San Diego Zoo and San Diego Botanic Gardens. For more information about his Art visit morrissquire.com
See the video 'Morris B. Squire Living Legend'
'Lamed' by Morris Squire is for sale on consignment at the Garden. The price is $2,300
Garden Open Daily 7:00-5.00 Monday-Friday; 10:00- 5:00 on weekends
Admission is $5.00 for non-members; admission is Free with Membership
Days that the Gardens are CLOSED
Directions to the Gardens (760) 945-3954 email:info@altavistagardens.org
Alta Vista Botanical Gardens is a 501(c)3 Not For Profit Corporation
Contact: WebMaster Copyright© 2003-2015 Alta Vista Gardens All Rights Reserved
AltaVistaGardens.org is part of the Omni Pragma® family