WOLLEMIA NOBILIS- WOLLEMI PINE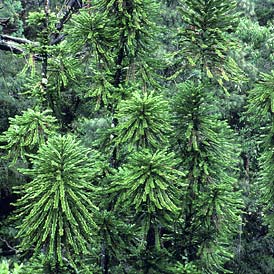 Alta Vista Gardens has acquired one of the world's oldest and rarest trees, Wollemia nobilis- one of the first ones in our area.
This has been an epic journey for the historic Wollemi pine, spanning 200 million years and 16,500 km (10,250 miles) from the Southern Hemisphere to the City of Vista, CA
In August, 2005, news of Sotheby's "Jurassic Park" tree sale created quite a stir. A tree auction was a first for the eminent international auction house. Alta Vista Gardens had to have one of these trees
Not mere trees, but 'living fossils' that have outlived their Jurassic ancestors for millions of years. Since dinosaurs roared about the Earth, to the present electronic era, a few Wollemi pines have patiently survived, with their gene pool pure and unchanged, in the Blue Mountains of Australia.
What was likely a tasty treat for Cretaceous Queensland dinosaurs is now the botanical story of the century. The auction raised over $1,000,000 (Australian), with every lot sold. .
The species was presumed extinct until the 1994 discovery of a remote rain forest grove of 36 trees; previously only fossils of Wollemi were known, dating back to the Jurassic Age.
The grove was discovered by David Noble, a New South Wales National Parks and Wildlife Officer and avid bushwalker, in the wilds of the 500,000 hectare Wollemi National Park, less than 200 km west of Sydney, Australia.
A member of the Araucariaceae family, the tree is an attractive conifer with unusual dark green, pendulous bottle-brush foliage; the bark resembles bubbling chocolate. Scientists estimate that the oldest Wollemi in the grove, 'King Billy', first began poking its head above the canopy about the time of the Norman conquest in 1066.
The trees have not evolved at all in that time; current growth matches the ages-old fossils. Professor Carrick Chambers, director of Sydney's Royal Botanic Gardens, said: "The discovery is the equivalent of finding a small dinosaur still alive on earth."
Alta Vista Garden's Wollemi is a first-generation tree, propagated from one in the original grove named 'Hercules', noted for its strength and power. The tree has now arrived, one of the only Wollemi in our area, one of mere hundreds in the world.
You may visit our Wollemi Pine near the artistic flagstone patio 'I Raggi Crescenti di Amore'; it sits in the center of our Cycad collection ( a family of prehistoric plants).
Garden Open Daily 7:00-5.00 Monday-Friday; 10:00- 5:00 on weekends
Admission is $5.00 for non-members; admission is Free with Membership
Days that the Gardens are CLOSED
Directions to the Gardens (760) 945-3954 email:info@altavistagardens.org
Alta Vista Botanical Gardens is a 501(c)3 Not For Profit Corporation
Contact: WebMaster Copyright© 2003-2015 Alta Vista Gardens All Rights Reserved
AltaVistaGardens.org is part of the Omni Pragma® family